The RN Residency program supports you as a newly hired graduate during your transition from classroom and clinical to your first work experience. This six to nine month program offers great flexibility in meeting your individual needs. It is a time for continued learning, as well as an opportunity to develop the confidence and comfort to work independently in the hospital setting.
This post hire residency is designed and facilitated by CentraState's Professional Development and Education Department with the goals of:
Building on your clinical skills and helping you develop the technical skills needed;
Developing your critical thinking skills;
Equipping you with effective delegation and organizational skills; and
Providing strong mentorship.
As an RN Resident, you will initially receive a comprehensive orientation, including a thorough review of policies and procedures, instruction in new technical skills, and experience in a Med/Surg rotation.
You will then be paired with a trained and experienced preceptor on your unit and given a gradual increase in responsibility over time. You will also receive off-unit experiences with the IV Team and Respiratory Therapy Department.
Upon completion of CentraState's Residency program, RNs are asked to make a two-year employment commitment. Interested? Email Anthony at Aciprian@centrastate.com.
ONLY RN new grads are able to take this program. Attendees of this program must have a BSN by December 2015 and be licensed by February 2016.
Magnet Recognition for Nursing
CentraState Medical Center was granted Magnet® status in December 2005 and was designated again in 2012 by The Magnet Recognition Program® of the American Nurses Credentialing Center (ANCC). Magnet recognition is granted to hospitals after an intensive evaluation based on a wide range of quality indicators and standards of nursing practice.
Magnet recognition is considered the "gold standard" for measuring excellence in nursing and patient care. Of the approximate 5,800 hospitals in the U.S., 6.3 percent hold Magnet designation, and only 3.75 percent have been re-designated as Magnet organizations.
Hospitals must undergo a rigorous application and appraisal process to earn Magnet status. To achieve re-designation, they must repeat that process and also demonstrate further development of 60 separate criteria within the five Magnet model components: Transformational Leadership, Structural Empowerment, Exemplary Professional Practice, New Knowledge, Innovations and Improvements, and Empirical Outcomes.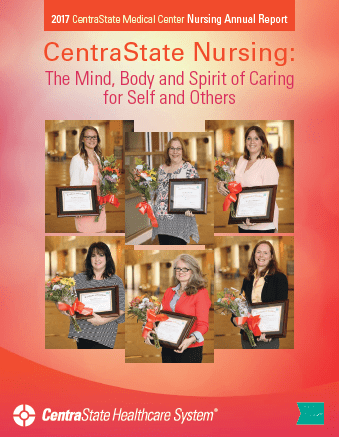 Research indicates that Magnet recognized organizations consistently outperform those organizations that have not achieved Magnet status. They have better patient outcomes and higher patient satisfaction rates. Magnet recognized organizations are known for quality patient care, nursing excellence and innovations in professional nursing practice. They also are found to enjoy increased nurse recruitment and retention rates and higher rates of job satisfaction.
Magnet status is granted for four years. Organizations must reapply to maintain the designation. Please find our annual report here. 
Nurses interested in joining the CentraState nursing staff can call (732) 294-2510 or click here for more information about nursing at CentraState.